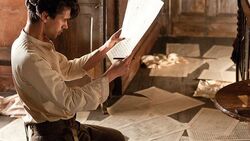 Cloud Atlas
, in addition to being the name of the novel, is the name of the concerto that
Robert Frobisher
composes in the "
Zedelghem
" chapters.
Luisa Rey
, in the subsequent chapter, searches for a copy of the work after reading about it in Frobisher's letters to
Rufus Sixsmith
. When she locates one of the few recordings available, she is surprised to recognize it in a deja-vu moment.
In the Book
In his letters to Sixsmith throughout the book, Frobisher frequently makes attempts at describing the concerto that he is composing.
In one instance, he analyzes the work and reveals clear influences:
"Echoes of Scriabin's White Mass, Stravinsky's lost footprints, chromatics of the more lunar Debussy, but the truth is I don't know where it came from. Waking dream."
In the following excerpt, Frobisher gives a detailed breakdown of the piece's structure, thus revealing that the Cloud Atlas Sextet is in fact a mirror of the novel Cloud Atlas:
"Spent the fortnight gone in the music room, reworking my year's fragments into a "sextet for overlapping soloists": piano, clarinet, 'cello, flute, oboe, and violin, each in its own language of key, scale, and color. In the first set, each solo is interrupted by its successor: in the second, each interruption is recontinued, in order. Revolutionary or gimmicky? Shan't know until it's finished, and by then it'll be too late."
In the Film
For the Cloud Atlas film, director Tom Tykwer was tasked with the impossible- trying to bring the Cloud Atlas Sextet to life. As an accomplished pianist himself, Tykwer composed the entire film's score with partners Johnny Klimek and Reinhold Heil.
For the sextet, they attempted to compose the concerto that Mitchell's Frobisher described, finding their results interesting, but unsuitable for a film score. Instead, they created a "Debussy-ish" song where the theme of the story was represented in six sections:
Frobisher's initial piano performance
A symphony
A rendition by a jazz sextet
Nursing-home Muzak
Futuristic Korean street music
A solemn hymn sung by a hoard of clones.

Sheet Music Link: http://www.noteflight.com/scores/view/7d15e88267fa9552d98638d867c5f4302abc7a84
Orchestral Version
Soundtrack Version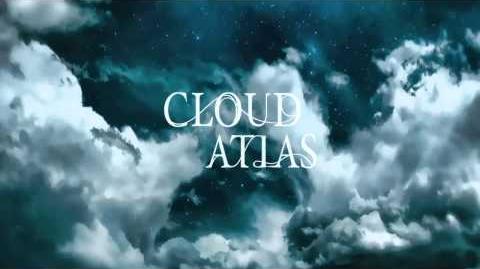 External Links
Community content is available under
CC-BY-SA
unless otherwise noted.