The Mexican Woman is a lookout at a factory where illegal aliens make stuffed toys under sweatshop conditions. Luisa Rey and Joe Napier flee into the building to escape Bill Smoke.
The Novel
Edit
In the novel, the woman interrupts Smoke long enough for Luisa and Joe to escape. She also helps Luisa and Joe escape through a passage in the sweatshop. She also kills one of Bill Smoke's associates, with a monkey wrench, after he has asked for Luisa and Joe's last words, allowing the pair to escape.
In the film, Bill Smoke kills the woman's dog and calls her a "wetback." While Smoke is trying to chase down Luisa and Joe, the woman sneaks up behind him and beats him to death with a wrench, commenting, "Yo amaba ese perro" (I loved that dog) and "Don't call me a 'wetback.'"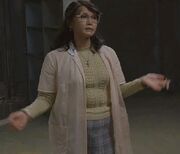 Community content is available under
CC-BY-SA
unless otherwise noted.